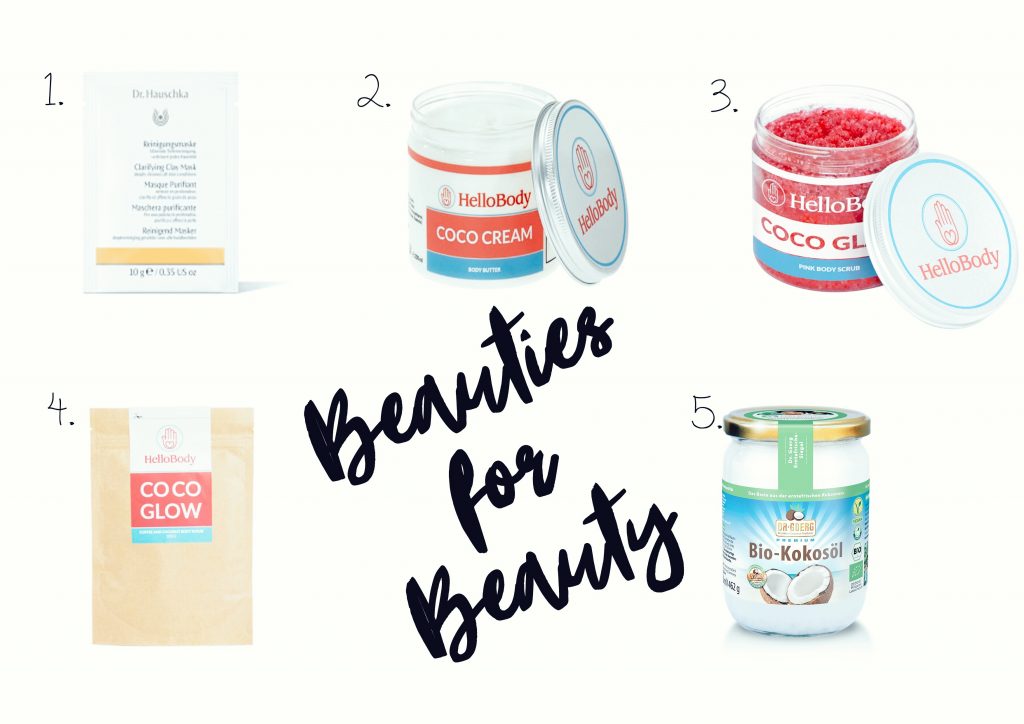 Today I want tô show you some of my latest Beauty products that  are fun using tô me! When it comes to cosmetics i have learned through the years that less is more!!! I Love natural Organic cosmetic and lately i am so curious tô make my own cosmetic, i think it so good to know the ingredients that you put on your Body! I am still testing but as soon as i know more, i will  definetly  Share it with you here 🖤.Só for now lets talk about These Five:
1. The claryfying Mask from Dr. Hauschka is really good. The texture is like healing mud, but very fine.  You mix it with some water and put on face, neck and decolte. It leaves your Skin só clean and soft . After 10 min. You wash it all off! I really Love it and can recomend it. Also something that i always do, is try to buy smal sizes of a product that i don't know, so many times i threw Money out for Beauty products which didn't fullfill my needs. So always ask for a tester or smal bottles. This mask you can buy in this exact size to just test it.
2. Well i have become a bit of a Hello Body Junkie :-)…this coco cream smells sooo good, i have tô say i looove everything coconut! This smell is natural and Not artificial at all, which i Love! It leaves the skin so so soft and did i mention that it smells sooooo good!!!
3. This one is on my wish List. Hello Body coco glam is a new bodyscrub and i want to test it soso badly it looks so good!!!
4. Hello Body coco Glow is a coffee Body scrub, i have Never ever had a Peeling that left my Skin so soft and also strong, it has also a good efect on celulites. The smell of coffee is really strong, but i Love it so much now…also you have to know that cleaning your Shower after using this Peeling will take some time, but it is all worth it, with this very good outcome of the softest good smelling skin! Extra tip: use the  coco cream after Peeling for a superduper soft skin! I really really Love it.
5. my all Time favourite coconut oil organic! I use it for everything hair, Body, Feet, hands, even for shaving! And as a toothpaste with organic cucuma for teeth whitening! If you want to know more about how i use coconut oil,please leave me a comment .
I hope tô inspire you a tiny bit!
sending love!